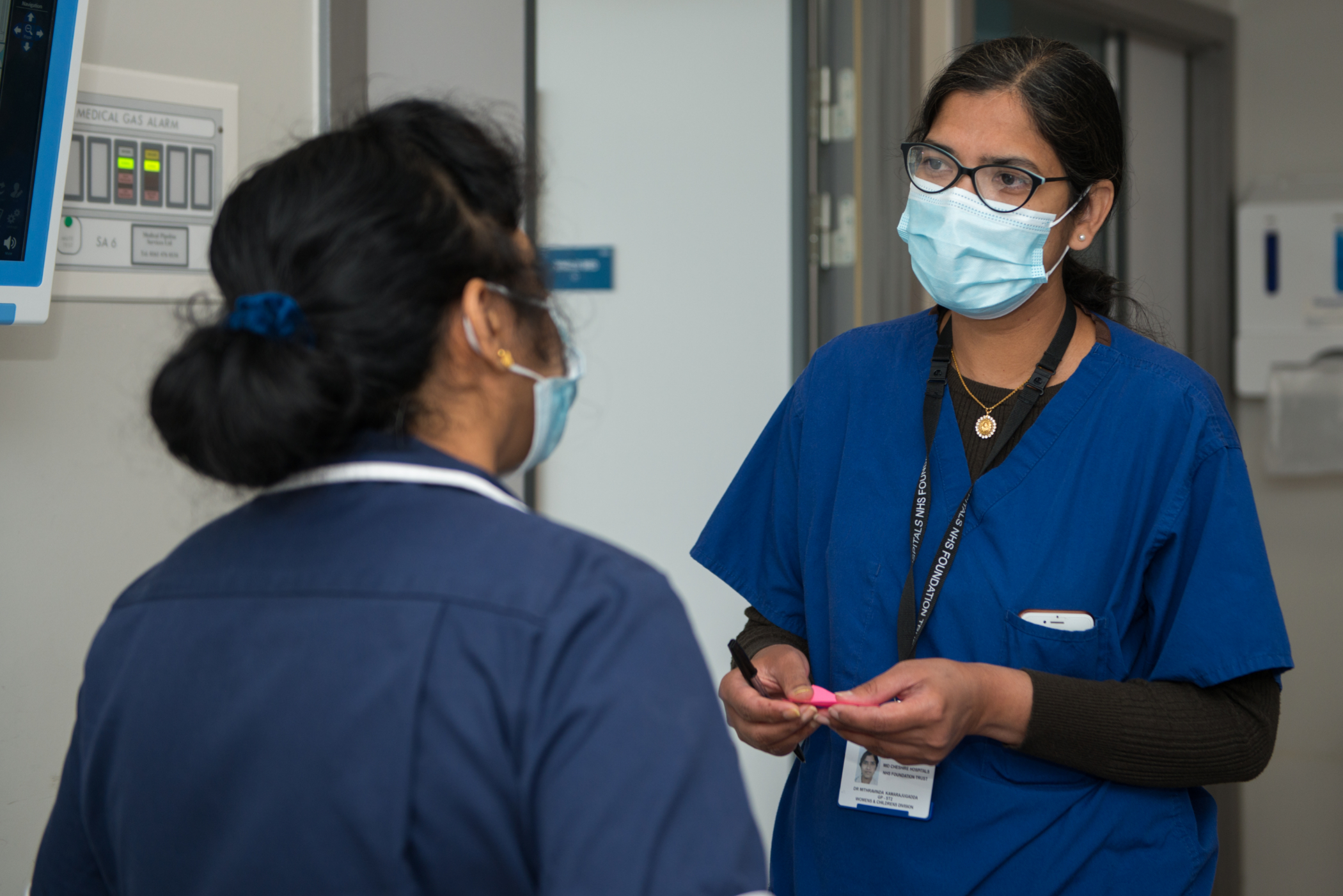 Our research team contributes to large national and international studies as well as local pilot studies, all of which aim to make significant advances in patient care and the treatment options offered to patients.
Within the Trust the majority of research projects are studies that have been adopted onto the national NIHR portfolio. The portfolio consists of high-quality clinical research studies that are eligible for consideration for support from the Clinical Research Network in England.
Studies may be sponsored by:
Other NHS trusts

Universities - either in the UK or international

Research bodies - e.g. Cancer Research UK

Commercial companies.
The patient information given before consenting to a study will always make it clear who the research sponsor is.
The core research team, led by the Research Manager, is responsible for ensuring that all studies within the Trust have all the necessary ethical and legal approvals to proceed and that they are conducted safely and effectively. The clinical teams support the clinical delivery of the research including: informing and consenting participants, performing tests and study procedures and collecting data.
Research Service List
The research department's service list covers all main research functions including:
Research governance checks
Approval of new research projects
Approval of study amendments
Management and maintenance of governance standards and good research practice
Participation in the central system for gaining permission of the National Institute of Health Research (NIHR).
Research Teams
The research team consists of the core research team and clinical trial research teams who support each of the clinical divisions. The core research team has a management and governance lead with support staff. The clinical research teams are led by research nurses/midwives and further details for each of them can be found below:
Annabel Plumb - Surgery and Cancer Team Lead
Carolyn Mansfield - Research Nurse
Karen Gilbert - Research Nurse
Esther Odesanya - Research Nurse
Karen Hillyer - Clinical Trials Administrator
Mr El-Kashab - Lead PI Ophthalmology Research
Lisa Rudy-Fitzgerald - Advanced Clinical Nurse Specialist Ophthalmology
Derek Klazinga - Research Administrator
Caroline Dixon - Women's and Children Team Lead
Janet Brown - Research Midwife
Carol Percy - Research Midwife
Jo Tomlinson - Paediatric Research Nurse
Amaryl Jones - Research Administrator
Dr Michael Grosdenier - Paediatric / Neonatal Research Lead
Claire Gabriel - Medical and Emergency Care Team Lead / Senior Research Leader Nursing & Midwifery
Deborah Maren - Clinical Research Nurse
Hannah David - Clinical Research Nurse
Mark Quiambao - Clinical Research Nurse
Sheron Clarke - Research Administrator
Katrina Humphreys
​Advanced Clinical Vestibular Specialist Physiotherapist CCICP
Physiotherapy research Facilitator (North West Coast CRN)
CSP Health and Safety Rep (regional and National)
The Pharmacy Clinical Trials Team consists of one Pharmacist and two Pharmacy Technicians. The role of Pharmacy in clinical trials is to facilitate and oversee the daily management of the medicines used in clinical trials.
The Pharmacy Clinical Trials Team will be involved at the very early stages of a clinical trial. Safety and ethics are considered before the Trust agrees to take part in a trial. The set up and dispensing of clinical trials is a specialist process involving many steps and regulations to adhere to. The temperature of clinical trial medication must be regulated and this is monitored daily by the Clinical Trials Team. Clinical trial medication often comes in plain white boxes with minimal labelling; this is often due to "placebo controlled" trials, where the drug may be active or pretend.
The Pharmacy Clinical Trials Team work very closely with the research nurses to ensure that the patients receive their clinical trial medication in a safe and timely manner.
Contact details for the Pharmacy Clinical Trials Team:
Pharmacist: bethan.roberts@mcht.nhs.uk
Technician: katherine.hampton@mcht.nhs.uk
Tel: 01270 273223
View more about research by clicking below