Healthcare Assistants are a vital part of the smooth running of the hospital.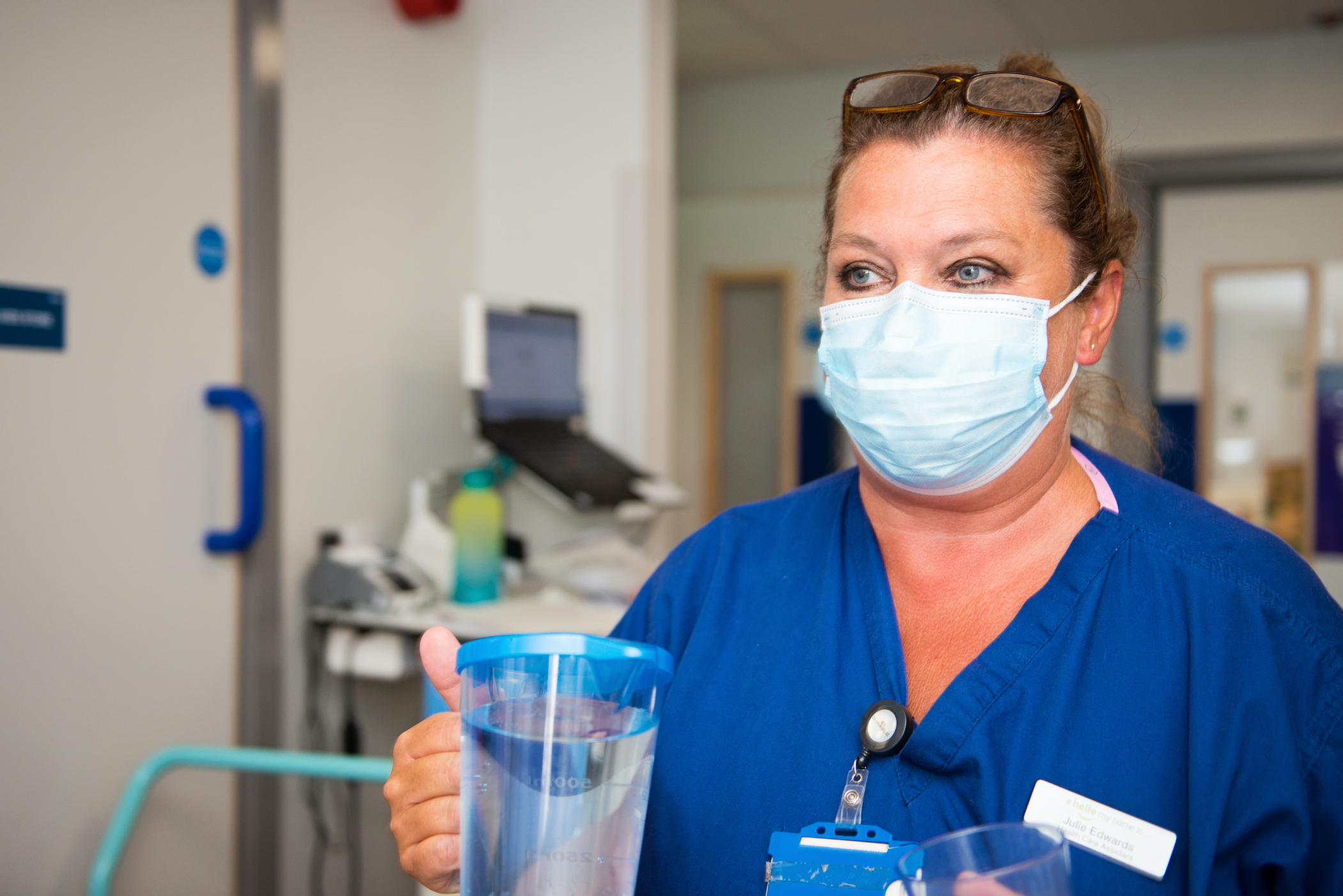 They work in most areas supporting Nurses, Doctors, Therapists and others to make sure a patient is well-looked after whilst in hospital. Healthcare Assistants (HCA) provide compassionate care and support to patients whilst they are in hospital.
They help patients to walk, wash, dress, eat and drink, and go to the toilet. They encourage patients to stay as well and independent as possible during their stay in hospital,and crucial to the smooth running of wards and departments.
As well as providing care, a Healthcare Assistant is trained to perform some clinical tasks depending on their role. At some levels this may includetaking a pulse, measuring blood pressure, taking a temperature,and measuring what patients are eating and drinking.
Healthcare Assistants record all this information which is then shared withother people involved in their care. They also read information recorded by others to ensure the best care is being provided.
Healthcare Assistants work in a variety of settings including the community, outpatients and support therapy teams. They can often be a really good route into Nursing and other Allied Health careers such as Physiotherapyand Occupational Therapy. They are sometime referred to as Healthcare Support Workers.
You must really like dealing with people as the role is person-centred, and the majority of your time will be spent with patients and their relatives.
Many of our patients are very poorly and will need a great deal of support with day-to-day tasks, so patience, compassion and empathy are important character traits.
It's great if you have some previous experience of working in a care home, hospital or have cared for a relative at home, this will give you a good idea of what to expect and some of the skills you will need. It is not essential though.
We will provide training for this role, we don't expect you to have any qualifications in care, however if you have that's great and will certainly help you get to grips with the role.
Some IT skills are useful as you will be expected to use email and a variety of digital systems.
You must enjoy working as part of a team of people, this is not a job for people who prefer to work alone. The role requires collaboration with other team members, patients, and relatives.
You will inevitably have contact with bodily fluids such as blood, sputum, urine, faeces and vomit. You should prepare yourself for this!
We know that this is a challenging role which requires specialist training and support. At Mid Cheshire Trust we will provide you with the training you need to undertake your role safely and develop your skills.
You will be enrolled into the care certificate (if you do not already have this qualification). Our Healthcare Assistant clinical skills team will support you to achieve this.
We have a pastoral support team who will help you to settle and provide ongoing advice and guidance for you whilst in post
You must undertake regular mandatory training in manual handling and resuscitation
You will have on-going ward-based training from the Practice Education Team
We have well developed career pathways for our Healthcare Assistants, depending on where you want to take your role.
You will have the opportunity to develop experience in many areas including, community-based care as well as rehabilitation and acute settings.

You can progress to a more senior Healthcare Assistant role.

You can progress to Therapies Assistant roles

We have a successful Nursing Associate training programme for experienced Healthcare Assistants. You must meet the entry requirements and possess a commitment and passion for nursing to undertakea two year foundation degree programme.

Long term there are options for Healthcare Assistants who meet the university entry requirements to be supported into a degree programme to become a Registered Nurse or Therapist.

We can provide access to functional skills support in English and Maths where this is a barrier to progression.
There is opportunity to work flexibly for our Hospital Bank
The Staff Bank allows Healthcare Assistants to get a flavour of other wards and services without committing to a permanent role. It enables people to utilise existing skills and develop new ones. Working for the Bank can offer a very flexible approach to care, with shifts up to eight weeks in advance across all areas, all self-booked according to your commitments
As well as providing pastoral support, training and ongoing professional development we also have an extensive range of benefits for our people, which includes the following:
Pay that reflects experience, qualifications and access to high quality training

Generous pay enhancements for nights, weekends and bank holidays which significantly increases basic pay rates

Generous holiday allowance, starting at 27 days' annual leave per year, increasing to 33, plus bank holidays

Gold standard pension scheme

NHS discounts across hundreds of shops, restaurants and services

Excellent career development opportunities

Generous occupational maternity, paternity and adoption pay

Weekly pay for Bank workers

Flexible work patterns and family friendly policies

Fast track Physiotherapy support for musculo-skeletal injuries

Help with the cost of glasses and eye tests

Therapy centre providing discounted complimentary therapies

Trust Pharmacy providing discounted everyday medicines onsite

Book club, Hospital Choir and inclusion networks

Chapel and multi-faith prayer room

Well-being workshops, Mental Health First Aiders, advisory and support service for staff including counselling, an employee support helpline and a mediation service
| Subtantive Employee | Bank Worker |
| --- | --- |
| Guaranteed hours | Flexible shifts to work around your current commitments |
| Holiday pay | Choose the areas you want to work in |
| NHS Pension contribution | NHS Pension contribution |
| Agreed shifts on wards | Weekly pay |
| Monthly pay | Priority placement over agency workers |
| Flexible working | Be a part of the NHS family |
| Can work extra shifts on the Bank | Supportive onsite team |
| Career Opportunities | |
Internal staff applying to the bank
Please apply by completing the Temporary Staffing Bank Shifts form. This form should only be used by substantive members of staff.
Register your interest
Please register your interest in being contacted by the Recruitment Team who will be able to keep you informed about open days and vacancies.