Members of the public were invited to find out more about their local hospitals, as part of an open meeting being held by Mid Cheshire Hospitals NHS Foundation Trust (MCHFT).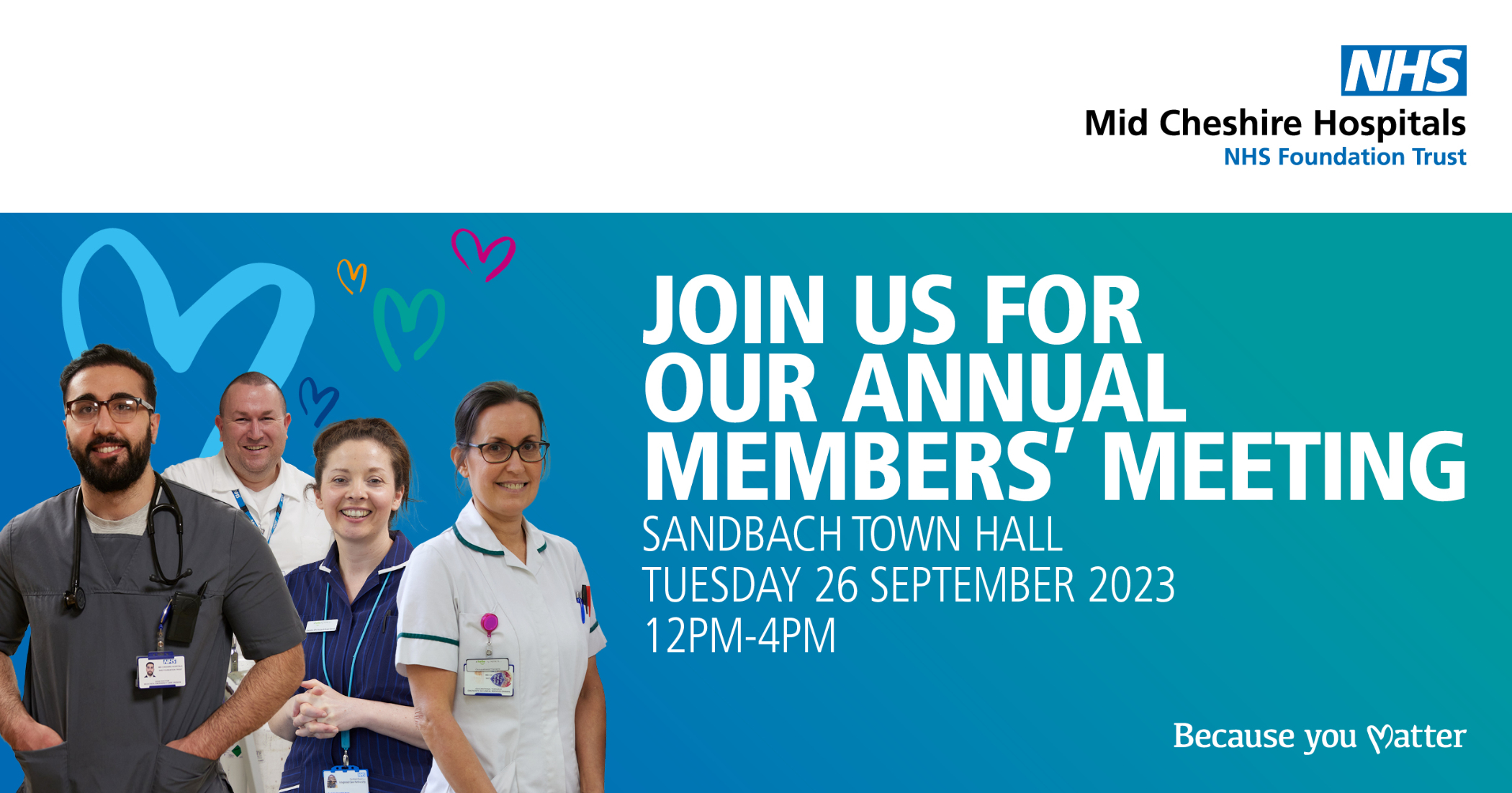 The Trust, which runs Leighton Hospital in Crewe, the Victoria Infirmary in Northwich and Elmhurst Intermediate Care Centre in Winsford, held its Annual Members' Meeting at 12pm on Tuesday 26 September 2023 at Sandbach Town Hall (Sandbach Town Hall, High Street, Sandbach, CW11 1AX).
Members of the Trust, along with the general public, joined the Board of Directors and Council of Governors to find out the latest about the Trust, its sites and its achievements during 2022/23.
The Annual Members' Meeting provided an opportunity for local people to engage with their local hospitals, ask any questions they have, meet the staff who work there and learn more about the service improvements that have taken place over the last year.
This year, there was an opportunity to view information stands and chat with staff from the following services about their recent key achievements:
Voluntary services
Central Cheshire Integrated Care Partnership Transformation Team
Frail and Elderly Assessment Unit
Same Day Emergency Care Unit
Mid Cheshire Hospitals Charity
Recruitment and Inspiring Futures
Equality, Diversity and Inclusion
Estates and Facilities / Sustainability and Social value
Staff Health and Wellbeing
The meeting also provided an opportunity for us to listen to the experiences, views and comments of the population we serve.
Did you attend the meeting? If so, we would love to hear your feedback to help us shape our meetings and events for the future. Just open the QR code with your camera and complete our short feedback form - thank you!