In May 2023 the Secretary of State for Health and Social Care announced that there is to be a new Leighton Hospital, it is hoped that the new hospital could be operational at the turn of the decade.
Our new clinical strategy for 2023-2028 sets out how we will develop our future role as a major district general hospital.
Our New Leighton Hospital Campus is a once in a generation opportunity to transform the district health and care model for the future.
Our ambition is to develop a state-of-the-art facility that is designed with the clinical, mental health and care needs of our communities at the core.
Through the strategic integration of digital innovation, a passion for retention and investment in our people as well as a drive to create an energy independent NHS we are committed to helping our population enjoy life to the fullest.
We will not do this in isolation, our long standing and genuine relationships with our health and care partners in Cheshire will be reinforced through our plans.
By focusing not just on the medical needs but the health and care needs of our communities the new Leighton Hospital Campus will help reduce health inequalities, driving integrated care that meets the evolving needs of our local population.
A new clinical strategy for 2023-2028
Underpinning the design of the new hospital is a new clinical strategy for 2023-2028
We have designed four models of care which are based around our population's differing needs. These care models will form the basis of all our plans and are described in the clinical strategy.
These models of care are not aligned to either hospital or community services or to specific clinical divisions. Each of the four care models offers an integrated model of care, including both hospital and community services, working together within each of them.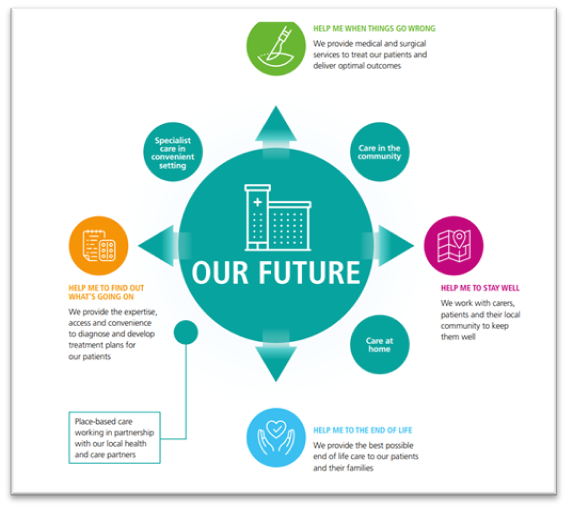 Get Involved
We are now asking our patients, carers, loved ones, staff, partners and our communities to get involved. We want to hear a wide variety of voices and opinions on our strategy, and the way we will develop the new hospital.
Involving our patients, their loved ones and our communities in their hospitals and care
We welcome patients, carers, family members and members of our communities to join our 'lived experience' panel where you can be as involved as little or as much as you wish, at your convenience:
• You will have had experience of our services and/or of managing various health conditions.
• You will contribute your ideas and opinions so we can best design our services around your needs.
• You will ensure that we include all voices in our work so that no one is left behind.
• You will play a key role in the development of the new Leighton Hospital
If you are interested in learning more about our panel please email: communications@mcht.nhs.uk