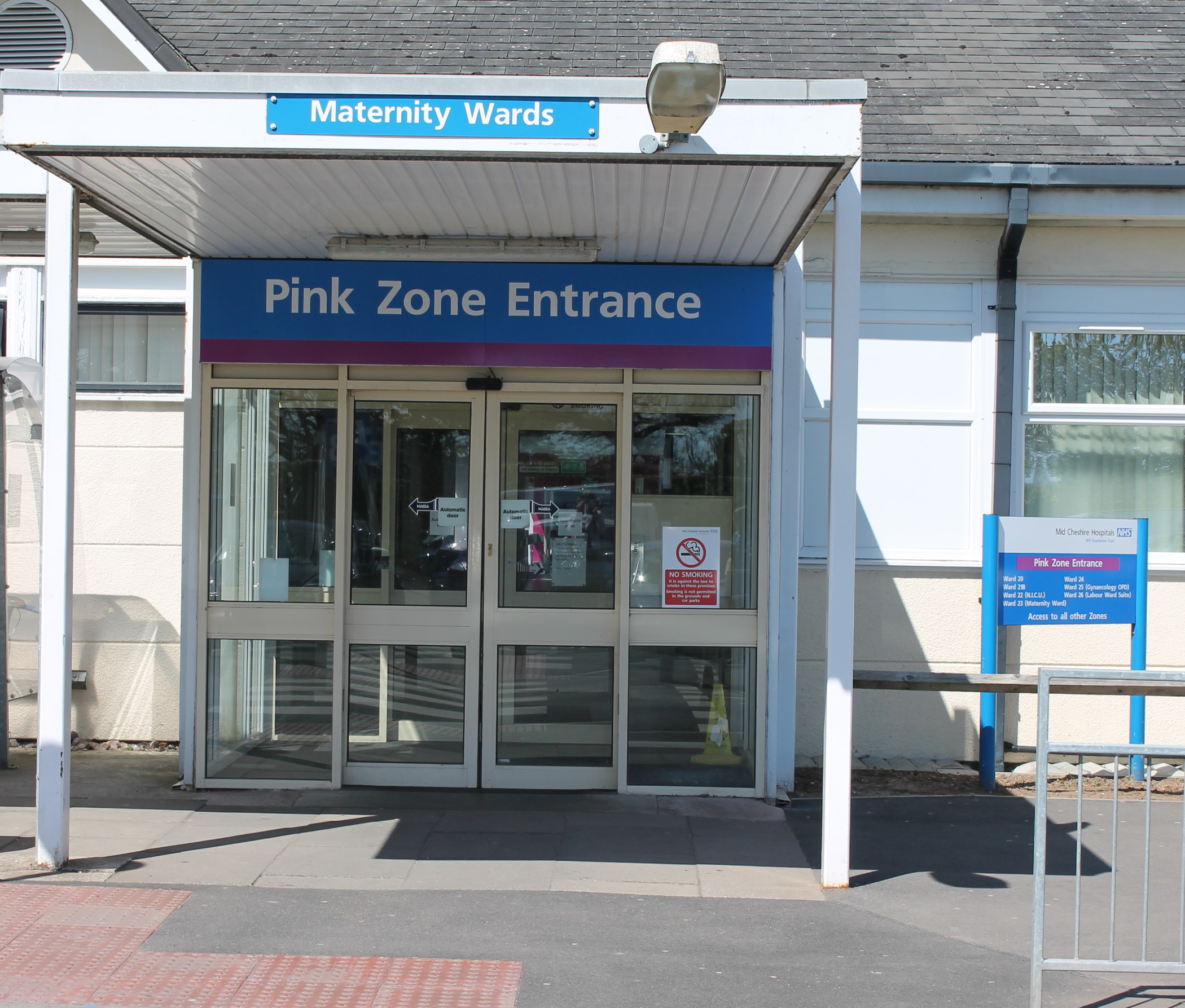 Maternity Outpatients Department comprises of the Antenatal Clinic, Antenatal Day Assessment Unit and the Fetal Medicine Unit.
For further information about your antenatal care visit NHS page: Your antenatal care.
Maternity Outpatients can be found by entering the Hospital from the Pink Zone entrance. The department is the first door on the left.
Referral to Maternity Outpatients
If you have not been booked, or need to make your first booking appointment, please complete this Maternity Outpatients Self Referral Form.
After your initial booking appointment with a Midwife, you will be referred to the appropriate clinics depending on your care needs.
Contact
How to find us
Leighton Hospital, Maternity Unit, Pink Corridor, Ground Floor, Near Maternity Entrance
Opening times: Monday to Friday (excluding Bank Holidays), 9:00am to 5:00pm
Whilst every effort is made to maintain efficiency in the hospital clinic to ensure the length of time taken is as short as possible, please appreciate that medical staff are sometimes called away to deal with emergencies. When this occurs, some delay is inevitable.
An appointment system is in operation and we would greatly appreciate you keeping to your appointment times. It is advisable to arrive at least 10 minutes before your appointment to enable you to park your car. While we try to give you the time that is convenient to you, we hope you appreciate that we can only make a limited number of early morning appointments.
One adult support person is able to accompany you. We understand that you may wish or need to have your child present during your ultrasound scan, however this can be distracting for our Sonographers. It is important that they are able to concentrate and carry out the scan effectively to help them identify any potential concerns with your baby. Therefore, children will not be allowed into the scan rooms.
Please ensure that you have childcare arranged on the day of your appointment, if this is not possible, contact Antenatal Clinic as soon as possible so that your appointment can be rearranged for when you do have childcare. If you arrive with your child without anyone to care for them, you will be given the option to rebook your appointment to enable you to arrange appropriate childcare.
Scan photos are available to purchase, information about how to pay for scan photos can be found on this page.
Mounted scan photos cost £5 each or £10 for 3. They can be purchased by obtaining a receipt from the prepayment machine in Antenatal Clinic using cash, card, Apple Pay and Android Pay. When you have your scan, give the receipt to the Sonographer who will provide you with your scan photo(s).
From approximately 30 weeks of pregnancy, pictures are not always of good quality; therefore it is better to see what the Sonographer can achieve before purchasing your receipt.
Whilst we attempt to get the best picture of your baby, this is not always possible due to a number of reasons e.g. position of baby, stage of pregnancy and the mother's BMI.
The income generated from the sale of the picture contributes to the cost of purchasing new ultrasound equipment. With modern, high quality equipment we can provide you with the best possible service.
Please take care of your pictures as we cannot rescan you to replace them.
Photos are printed on heat-sensitive paper and should not be left in a warm place (e.g. near a radiator, or on a windowsill) as the picture will permanently disappear. Laminating your picture will have the same effect.
Belly button jewellery causes serious damage to our ultrasound probes (the part that comes into contact with your skin). Please ensure that you remove any belly button jewellery BEFORE your ultrasound examination.
Personal camera and video equipment cannot be used in the ultrasound room as they are likely to distract the Sonographer and detract from your personal involvement in the examination.