The Unit at Leighton Hospital is located within the Treatment Centre, which has a light and spacious reception area and admissions lounge leading through to dedicated single gender changing areas and waiting rooms. There are five procedure rooms including a room equipped to deliver x-ray supported procedures and anaesthetic-supported sedation. There are post-procedure recovery, ward and discharge lounge facilities, which are shared with the day surgery service.
The Unit at Victoria Infirmary, Northwich has one endoscopy room and dedicated facilities including admission, waiting and discharge rooms. This Unit operates single gender sessions.
In total, the Units undertake approximately 12000 procedures per year across all specialties.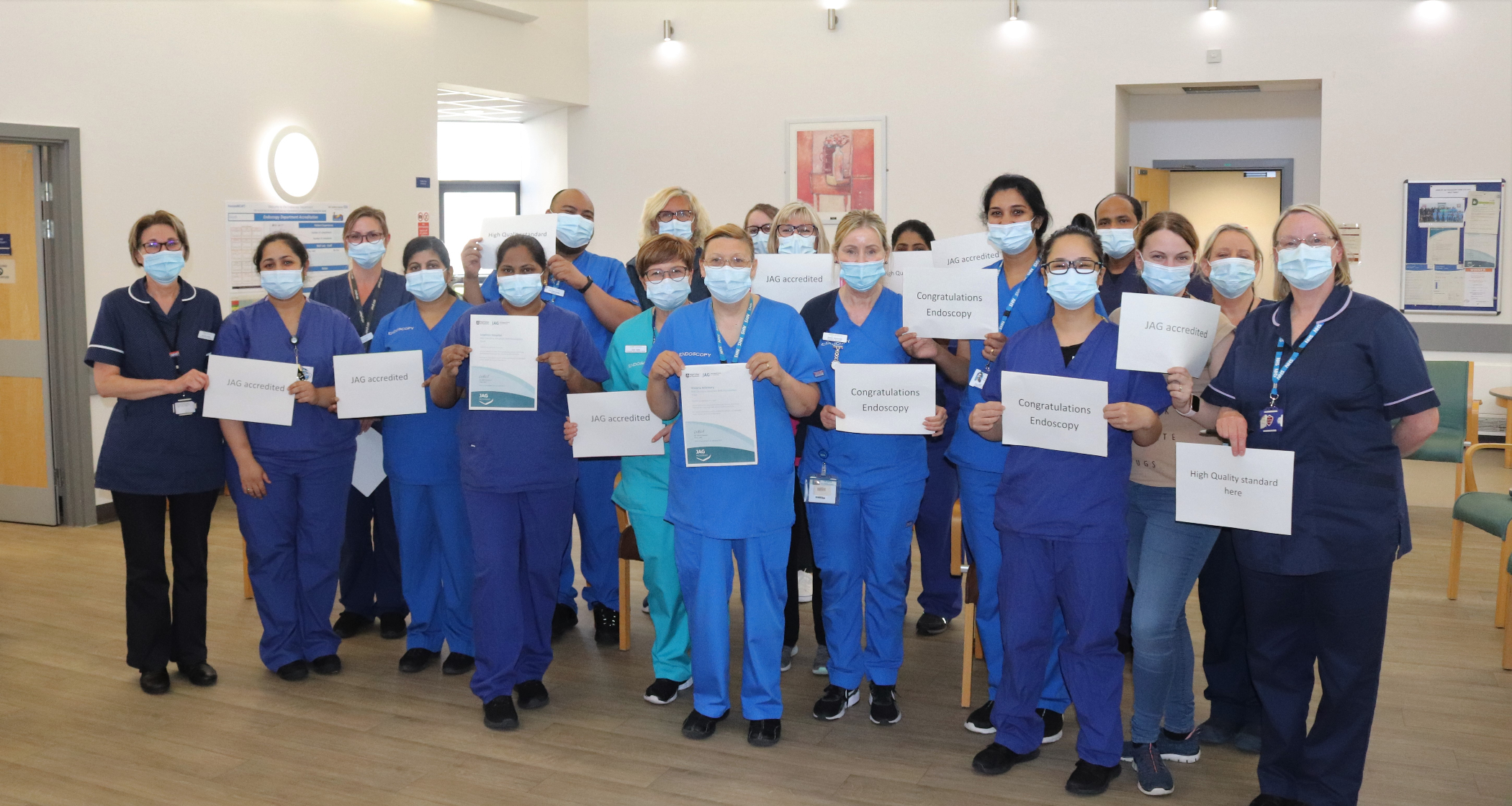 Both Units are JAG-accredited – JAG accreditation means that patients can have increased confidence in their endoscopy service and be assured of the same quality of care no matter where their endoscopy takes place, provided it is JAG accredited. For the service it means a sense of pride in being able to show that they offer a high quality and safe service. It also increases opportunities for investment, growth and development of services.
JAG accreditation is awarded to endoscopy services who have been assessed and have demonstrated that they meet the JAG quality standards. These cover all aspects of an endoscopy service, ensuring that they:
continually improve the quality and safety of the care provided;
maintain a strong focus on ensuring patients have a positive experience;
provide excellent training and development opportunities for all staff;
uphold a safe and comfortable environment for patients and staff.
Our service works closely alongside Consultants, Specialist Nurses, General Practitioners and other healthcare professionals to deliver procedures that include:-
Gastroscopy and associated therapeutic procedures
Colonoscopy and associated therapeutic procedures
Bowel screening colonoscopy
Flexible sigmoidoscopy and associated therapeutic procedures
ERCP (Endoscopic Retrograde Cholangiopancreatography)
Percutaneous endoscopic gastrostomy
Bronchoscopy and associated therapeutic procedures
EBUS (Endoscopic Bronchial Ultrasound)
Cystoscopy and associated therapeutic procedures
The Cheshire NHS Bowel Cancer Screening Programme is based at Leighton Hospital and covers the entire Cheshire region, working in partnership with hospitals and GP Practices across the county.
Patients can access the service through referrals from their GP, hospital medical staff or specialist practitioners following outpatient consultations or inpatient stays.
Endoscopy is a procedure that uses an endoscope (a long, thin, flexible, lighted tube with a small camera inside) to look inside your gullet, stomach, bowel, bladder or lungs to diagnose or treat a condition. It was developed as a diagnostic tool but has rapidly become a means of performing therapeutic procedures which, in the past, would have required surgical intervention. The vast majority of endoscopic procedures are performed as day cases with local anaesthesia or conscious sedation.
The Endoscopy Unit at Leighton Hospital is located within the Treatment Centre on the ground floor of the hospital with dedicated patient and visitor parking adjacent to the entrance. (Entrance 3 from the A530 Middlewich Road).
The Endoscopy Unit at Victoria Infirmary, Northwich (VIN) is located on the ground floor and there is patient and visitor car parking available on site.