Ward details
Phone Number:

01270 612018

Visiting Times:

3pm-7pm, 7 days a week

Ward Manager:

Ann Goodwin

Matron:

Ashley Evanson
Ward 4 has 32 beds and is a single sex accommodation ward. This means that patients of the opposite sex are on the same ward as you, but they will not share your sleeping accommodations or your toilet/washing facilities.
The ward aims to provide high quality care for all our patients and endeavour to support you and your family throughout your stay. We encourage relatives to be involved in the planning and implementation of your care. Please ask your relatives if they wish to assist.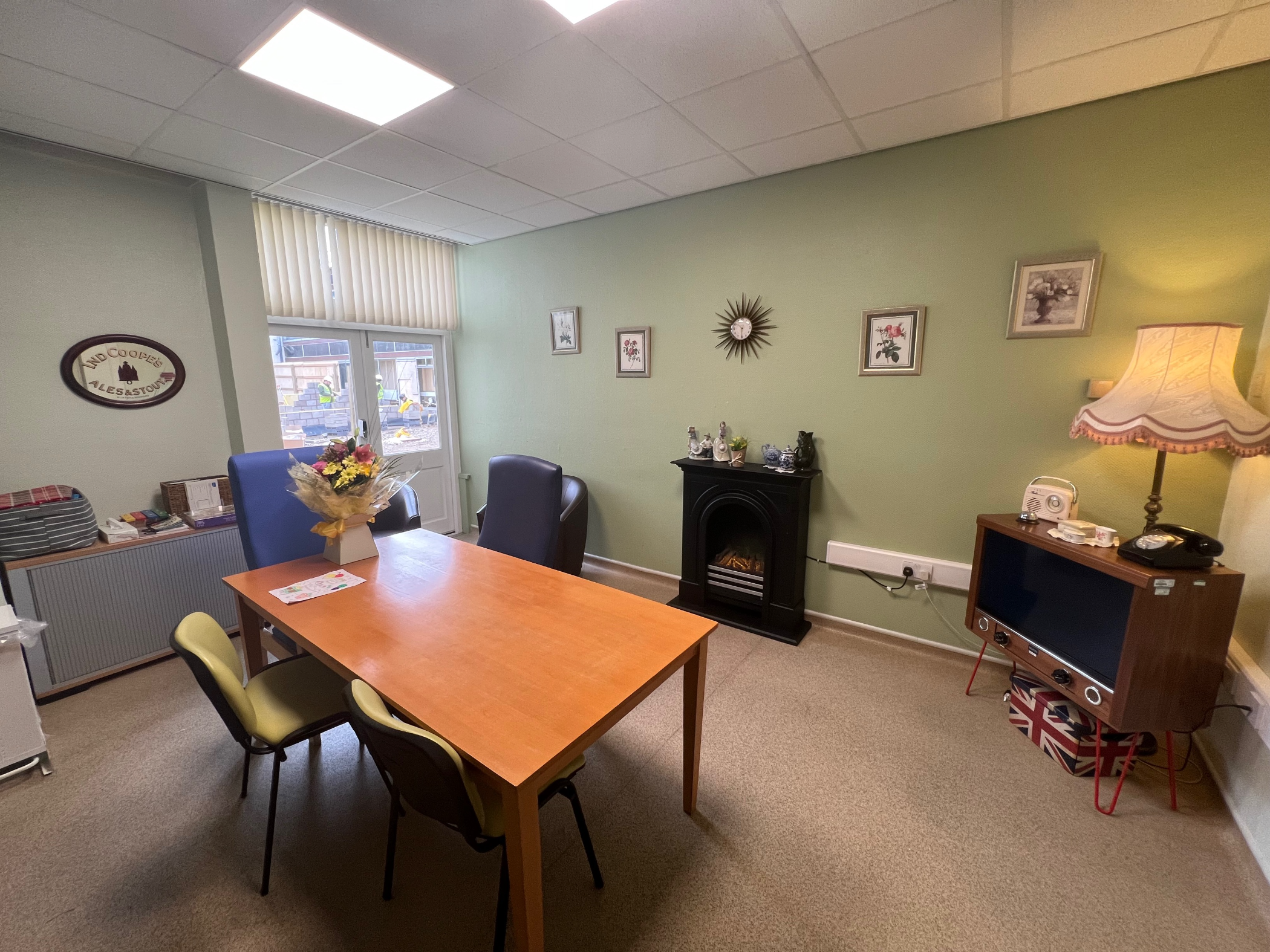 We welcome any feedback you may have during your stay to ensure we meet the needs of our patients.
If you are unhappy or have any questions about the care you are receiving, please speak to ward staff. If you are still unhappy, please contact the Patient, Advice and Complaints Team (PACT)
The ward can be contacted on 01270 612018, direct line available 24 hour a day, 7 days a week.
If your relatives are concerned about you, we would appreciate it if one person could be nominated to telephone and pass information one as this allow the nursing staff more time to care for the patients, especially during the morning period. Please also be aware that, due to confidentiality laws, we are limited to how much information we can give over the telephone. If you are unable to visit, a 'password' can be set up for you for when you phone.
Visiting times for this ward are 3.00pm-7.00pm, 7 days a week. While a patient may have different visitors during the day, a maximum of two visitors are allowed at the patient's bedside at any one time. There is no limit on how long a visitor may stay with a patient between these hours. There are exceptions in place for immediate family members or carers. Please ask the ward for more information.
If you need assistance at a mealtime, either from staff or your family or carer, please speak to a member of staff. No other visitors are allowed at mealtimes.
Breakfast 7.30am (approx.)
Lunch 11.45am (approx.)
Evening meal 4.45pm (approx.)
If you experience any problems with your meal, please speak to a member of staff. You will be offered a choice of a hot meal or sandwiches and a dessert, with yoghurt or fruit.
Hot drinks, juice and water is available throughout the day.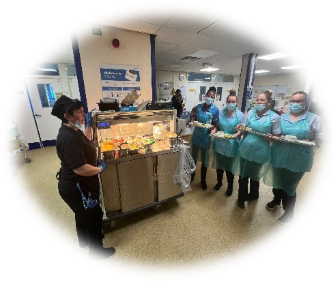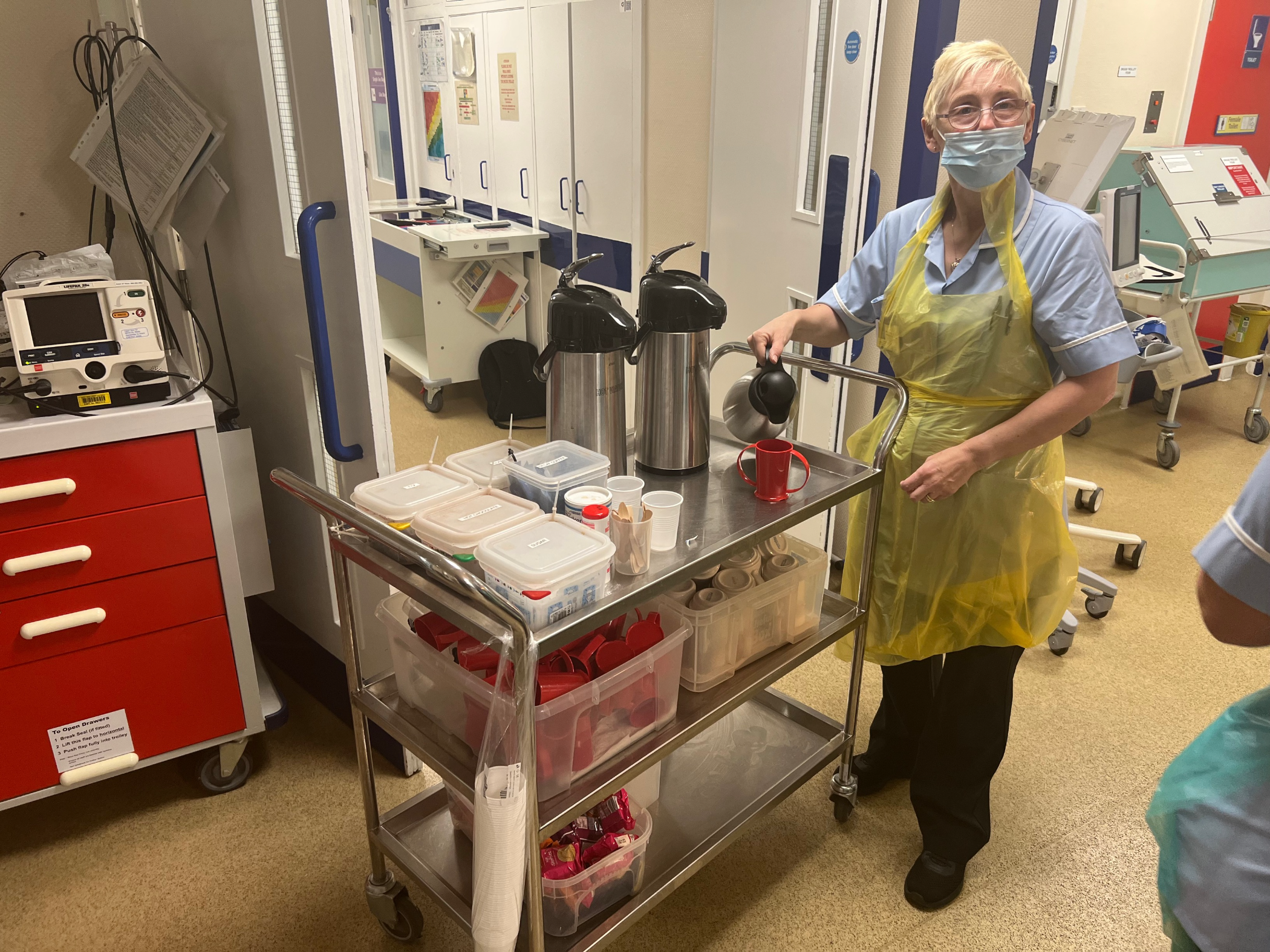 The Quiet protocol is aimed at reducing the unnecessary noise at night and helping patients to get a good night sleep. The protocol is active from 11.00pm till 6.00am and will involve staff ensuring lights are dimmed, bay doors and windows are closed, reducing controllable noise with pager, bleeps and telephones being switched to low setting. Ear plugs and face masks are available on request.
Ward rounds vary depending on the Consultant, but usually ward rounds usually take place in the morning, so medical updates are normally available in the afternoon.
If you are admitted between Friday and Sunday, you will be reviewed by a member of the on-call team. If you would like to speak or arrange a meeting with the doctor, please ask a member of staff. Your relative or carer can also be present if you wish.
A member of nursing will introduce themselves to you when you are admitted. Nurses change shift at 7.30am and 8.00pm, 7 days a week.
You can identify the nursing staff by the colour of their tunic as follows:
Navy with lilac trim - Matron
Navy/White Spot - Ward Manager
Navy Blue - Ward Sister
Royal Blue - Staff Nurse
Pale Blue - Healthcare Assistant
Cerise Pink - Housekeeper
Burgundy - Ward Clerk
Black - Early Discharge Facilitator
The Housekeeper will be happy to help with any enquiries, assistance with menus, linen, and ward cleanliness. If you experience any problems whilst on the ward, please ask to speak to the Housekeeper.
The Early Discharge Facilitator focuses on care needs for patients when they go home. If you feel you may need support on discharge when you leave hospital, please ask to see them.
The Activities Co-Ordinator arranges activities on the ward for you to join in if you wish. Available Monday to Friday, 9.00am – 3.00pm.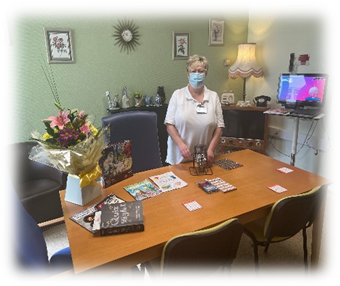 Hand washing is especially important before eating (snack and meals) and after using the toilet, bathroom or commode. Hand wipes ae available if you cannot get to a handwash basin.
If you have wound dressing, stitches, a catheter or other attachments try not to touch them any more than is necessary and always wash your hands afterwards. Bring only essential items with you so your bed area can be kept clean and tidy. If you have any concerns about cleanliness, please ask to speak to the senior member of ward staff or matron.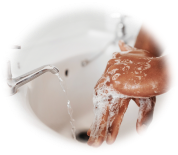 Visitors should follow the same hand hygiene guidance as listed for patients and use the and gel dispenser located at the entrance or wash their hands with soap and water. Ward staff won't be
offended if you ask them whether they have washed or cleansed their hands with an alcohol hand rub.
Please bring with you any medication you are taking. This includes tablets, inhalers, creams, eye drops and anything you buy over the counter, such as vitamins or herbal remedies.
A member of pharmacy staff will visit you soon after your admission to look at your medicines and record details of your medication history. This is to make sure you have been prescribed your medicine correctly, it is being given correctly (for example, the correct dose at the correct time) and to check you have enough of your medicines. During your stay Pharmacy will supply any medicines you are running short of and any new medicines.
Your medication will be stored securely in your bedside medication locker.
Medication rounds begin at the following approximate times: 8.00am, 12.00 midday, 5.00pm and 10.00pm. If you have any concerns with these times, please speak to the nursing staff.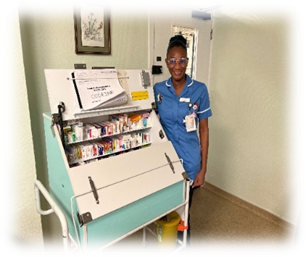 After the doctor/health care professional has prescribed your take home prescription, pharmacy will check the prescription and supply any required medicines. A member of pharmacy staff may visit you before you are discharged to explain how to take your medicines and answer your questions.
A Medicines Helpline is also available for you to phone after discharge if you have any more questions about your medicines.
Medicines Helpline: 01270 273221. Open Monday to Friday, 10.00am - 3.00pm
Please remember to bring in your toilets, nightwear, dressing gown and slippers.
Daywear is encouraged on Ward 4 to ensure you get back into a routine for returning home.
Wheelchairs and portering assistance are available.
Please ask a member of staff if you would like a visit form one of the hospital chaplains. Gideon's bibles are available in the dayroom on the ward. You can keep and take the bible home if you wish.
The Trust provides a variety of facilities within the hospital which patients and visitors are welcome to use. Please ask staff for opening times.
Café Express: Situated in the main entrance. Offering a wide selection of hot and cold 'grab and go' meals.
Bistro: Situated in the Treatment Centre. Offering a restaurant style plated meal service. We kindly request that patients with wounds, drips or catheters refrain from visiting the Treatment Centre.
Hospital shop: Situated in the main entrance. Sells snack, newspapers, toiletries etc.
The cash machine is free of charge and can be found outside the main entrance.
Smoking
The Trust operates a Smoke Free Site, which applies to all staff, patients, visitors and contractors. This means that smoking (including e-cigarettes) is not permitted in the buildings or grounds of any site owned by the Trust. If you smoke and would like help and support to stop smoking, contact the Cure Team on 01270 826482 for free, friendly advice and support. Available Monday to Friday, 8.30am – 4.30pm.
Zero Tolerance
The Trust follows the guidance of the Department of Health on 'Zero Tolerance to violence against staff'. Persons acting in a threatening manner either verbally or physically will be reported to the police and further action may be taken.
Mobile phones
Mobile phones are permitted on the ward and in designated areas in the hospital. To protect patients and staff confidentiality, mobile phones must not be used to take photographs, videos or voice recordings on the ward or inside the hospital.
Fire alarm
The fire alarm testing takes place every Tuesday at Leighton Hospital.
If you have brought valuables with you, speak to a relative or friend to see if they can take them home and keep them safe until you are discharged from hospital. If this is not possible, please ask the nurse to deposit them in the ward safe. You will be given a receipt for anything deposited. The Trust cannot accept liability for money or valuables which are not handed over and receipted for safe keeping.
During your stay you have access to the hospital free Wi-Fi (including Radio Leighton). To access the Wi-Fi select 'Patient_Wi-Fi' on your Wi-Fi settings. Click 'Accept and proceed' and you will be connected to the
Wi-Fi. The free Wi-Fi allows you to browse the internet, check your emails, and use social media sites. If you wish to stream videos (YouTube, catchup TV, Netflix, etc) or transfer large files, then you must purchase premium Wi-Fi services. Prices are displayed when clicking on this service.
Available 24 hours a day with live programs, patient request, football commentaries and Sunday services. You can listen to Radio Leighton by connecting to 'Patient_Wi-Fi' or scanning the QR code with your camera on your smart device.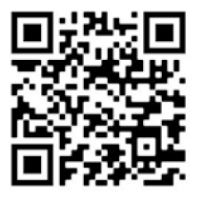 More information can be found by visiting listen.radioleighton.org.uk ​​​​​​​​​​​​​​
On occasions it may be necessary to move patients to another ward or area. We follow a strict assessment process before moving any patients and always ensure both relatives and medical staff are informed about any transfer.
When you are ready to be discharged from the ward or hospital you may be asked to wait for medication or transport home in the Discharge Lounge. It is a relaxing environment with a television and magazines. Refreshments are also provided. Ward staff will keep you and your relatives informed if you are transferred to the Discharge Lounge