Publish date: 16 August 2023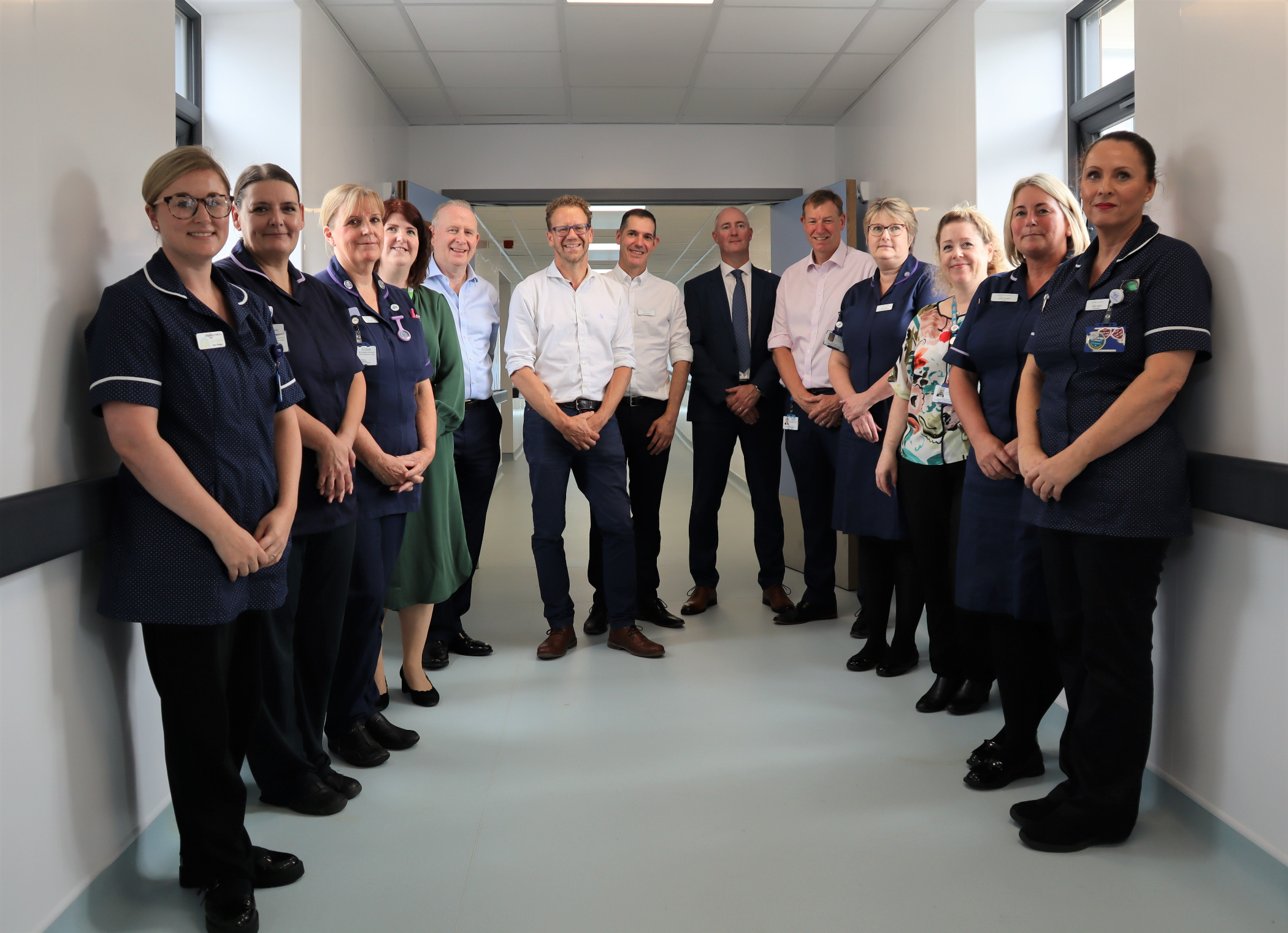 A new two ward building has been officially opened by Parliamentary Under Secretary of State Lord Markham CBE at Mid Cheshire Hospitals NHS Foundation Trust's (MCHFT) Leighton Hospital, in Crewe.
Built over two floors, the wards feature a mixture of single and multi-bed bays, and a specialist physiotherapy area on the ground floor used for occupational therapy, physiotherapy interventions, and to aid post-surgery recovery, along with a patient day room.
Lord Markham, who is responsible for the Government's programme of building new hospitals and upgrading existing ones, visited Leighton Hospital to open the ward on Tuesday 15 August and see the site first-hand.
The wards project was delivered by specialist offsite healthcare construction firm, Darwin Group, which works in partnership with the NHS to create outstanding healthcare facilities built using innovative offsite construction methods at its own UK-based production facility.
As part of the visit, Lord Markham heard how the new wards would not only increase overall capacity at the hospital, but also provide decant accommodation which would allow MCHFT to undertake essential refurbishment and stabilisation works to exiting wards.
Leighton Hospital was built in the 1970s using reinforced autoclaved aerated concrete (RAAC) and was one of a number of hospitals identified by the Government as needing to be rebuilt.
The new ward building is clad in a non-combustible boards designed to reflect the colours to the NHS and complement the surrounding site. Sustainability is also a key feature, with high performing materials, air source heat pumps and solar panels on the roof giving it an energy efficiency 'A' rating.
Russ Favager, Deputy CEO and Chief Financial Officer of MCHFT said 'We were delighted that Lord Markham was able to officially open the wards as part of his New Hospital Programme visit. The two new wards have allowed us to continue our focus on providing unparalleled care for our patients and the best quality and safe place to work for our people, I'd like to say a huge thank you to our estates team, Darwin Group and all those teams involved in this project for the speed in building these wards.
Darwin Group Deputy CEO, Jim Pierce, who attended the ward opening, said: "It's fantastic to see the new wards being officially opened by Lord Markham. At Darwin Group, we know our buildings have a hugely positive impact the people and communities who use them – and these wards are no different. It's been a pleasure to work alongside Mid Cheshire Hospitals NHS Foundation Trust to play a part in the ongoing improvements taking place at Leighton Hospital."