Publish date: 22 September 2022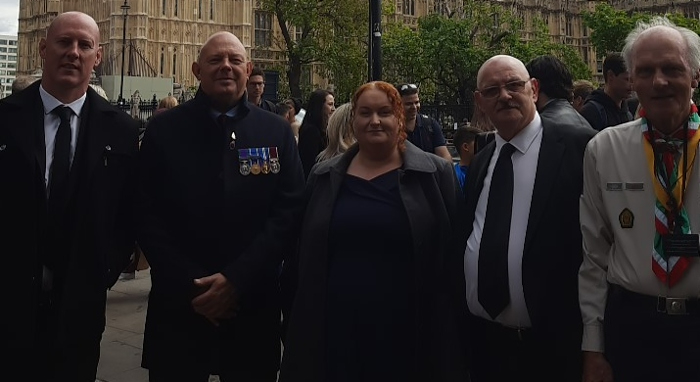 Phil Malam, one of our team of porters at Leighton Hospital, enjoyed a once-in-a-lifetime day on Sunday 18th September when he was invited as a special guest of MP Kieran Mullan to the Lying-in-State of her Majesty Queen Elizabeth II. Phil accompanied three other guests from Crewe and Nantwich - Sarah Winchester, Gerald Newbrook and Steve Weekes – who were all selected by Dr Mullan to join the hundreds of thousands who have queued for hours to visit Westminster Hall. Each of the guests had a connection with the Queen from one of her various visits to South Cheshire during her 70-year reign.
The Queen met Phil in 1972 when he was just 19 when she opened Leighton Hospital, having started work just before the visit as a hospital porter. Phil remembers her as being a very kind lady who was genuinely interested in the staff that she met on her visit.
Recently Leighton celebrated its 50th anniversary around the same time as the Queen's Jubilee celebrations and Phil was invited to join the Queen's Jubilee concert at Buckingham Palace, in celebration of his 50 years service for the NHS.
Phil talks about his experiences: "I am immensely proud to work for the NHS and remember the day the Queen opened Leighton Hospital as if it were yesterday. She was a great lady and my wife and I had a fantastic weekend when we were invited to join her Jubilee celebrations in London. I am very grateful to Kieran Mullan for thinking of me when inviting residents to join him to the Lying-in-State of her Majesty Queen Elizabeth II. It was an incredibly special day, and very moving. I am so pleased I got to meet the Queen and have the opportunity to thank her for her work and commitment last Sunday."
Dr Mullan invited Phil after hearing about his experiences as a porter when the Queen opened Leighton Hospital in 1972. He said: "I had the privilege of visiting to Her Majesty lying in state and paying respects on behalf of the constituency on Thursday night. As an MP we were also able to invite four guests. I wanted to invite people to represent the relationship between the Queen and the constituency, not just with dignitaries, but the people of Crewe & Nantwich. Also, the relationship between the Queen and the military and voluntary organisations. I am very grateful to them all for taking part."