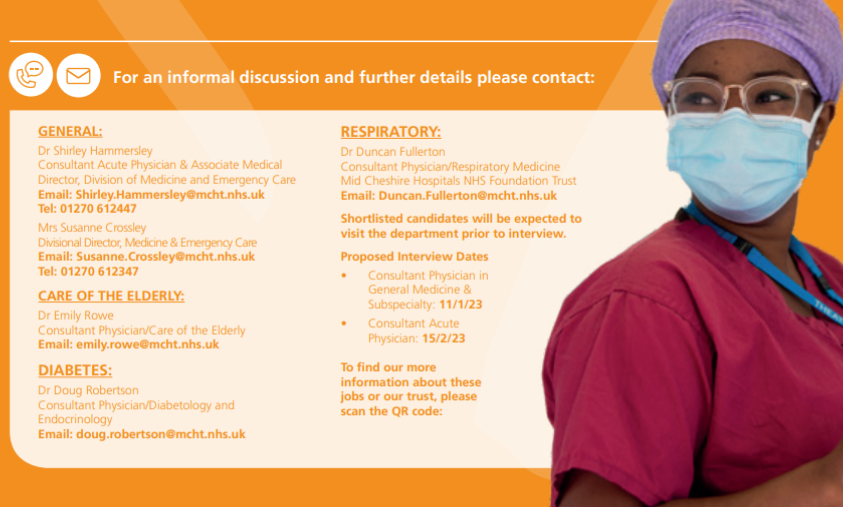 We are committed to Place-based care working in partnership with our local health and care partners to ensure that we deliver specialist care in the right setting and support care in the community and at home.
The roles
An exciting and unique opportunities have arisen to join Mid Cheshire Hospital's expanding Division of Medicine and Emergency Care as a Consultant Physicians in General Internal Medicine and a Specialty
The roles are dually accredited in a speciality and general internal medicine.
Follow the links to apply for the roles
General Medicine with sub speciality
We are most interested in the following speciality areas:
The team are passionate about innovation and are expanding the services currently being offered to include services such virtual frailty wards and rapid response services.
This role has a real focus on flexibility as the speciality sessions can be tailored to best suit specific areas of interest or speciality.
Diabetes and Endocrinology
This team has a strong emphasis on partnership working and developing initiatives to support the most vulnerable members of our communities, such as in-reach care to nursing home residents.
The team are keen to pursue developing and delivering a local pump service which is currently not available to our local population without travelling out of area.
There are many opportunities for development and growth within this team, especially in terms of anti-natal and transitional care
This is an exciting time to be part of our respiratory team as we build and develop our enhanced care unit which was originally set up as part of our response to COVID-19.
This role also brings opportunities to work alongside oncologists and Thoracic surgeons from The Christie as well as Manchester University NHS Foundation Trust.
Personal development
To support your own personal development and learning there are exciting opportunities for clinicians to expand their interests and take on additional roles in areas such as:
Leadership and Management
Continuous improvement
Education and training
Service transformation and re-design including the delivery of an electronic patient record as well as patient safety roles.
There is also a research team on-site with opportunities to be involved in local and national research studies.
As well as this a mentoring programme is in place to provide newly appointed Consultants a confidential source of knowledge, advice and support.
Living and working in Cheshire
Leighton Hospital is situated on the outskirts of Crewe, a pleasant railway town with a major engineering heritage; it remains the home of Bentley Motors.
In the surrounding area are many smaller towns and villages, as well as more rural locales. This region is dotted with many highly rated country pubs and restaurants, farm shops, and makers' markets.
Families can enjoy interesting days out at a variety of locations such as Tatton Park, Cholmondeley Castle & Gardens, Chester Zoo, Hack Green Secret Nuclear Bunker, the Anderton Boat Lift, Little Moreton Hall, Jodrell Bank Observatory, and many others.
Walkers will find many excellent locations including Delamere Forest and the Sandstone Trail, with the roads of Cheshire are very popular for cyclists. Golfers will discover a wide range of courses; many running events are held locally; there are a number of beautiful fishing spots. There are several local BHS approved riding schools, and many open water venues for water sports.