Overview
The Mid Cheshire Trust Board formally approved a Strategic Outline Case (SOC) on the development of plans to replace buildings on the Leighton Hospital site that are constructed with Reinforced Autoclaved Aerated Concrete (RAAC) planks in April 2022 at a cost of £721m.
The risks from a Health, Safety and Business Continuity perspective cannot be mitigated without significant rebuilding of the Leighton Hospital site. Circa 34,000 m2 of the site is currently constructed using these materials of which there is limited research as to their stability. The RAAC planks are in the Trusts roofs and internal and external wall constructions.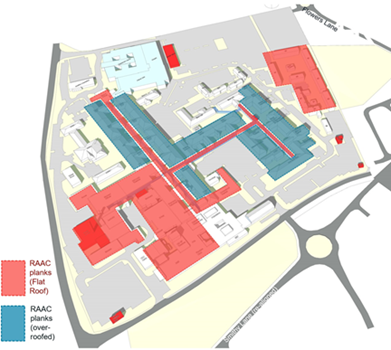 NHS England/Improvement has issued instructions requiring the removal of RAAC planks by 2035 and the Trust needs to ensure that it has plan in place to deliver this but at the quickest possible rate, eliminating the risks to Health & Safety and disruption of core healthcare delivery to the population.
The Trust is in an excellent position to commence a re-building programme having already progressed architect designs of a phased rebuild on its existing land. This means that there is an externally assessed plan to redevelop the whole hospital site in phases without the need for additional sites or land to be purchased
For those areas affected by RAAC, the works to replace these planks would be close to a total rebuild, with only the substructure and structural frame likely to be suitable for retention. The cost of undertaking such works are estimated to be in excess of a new build at £829m and push completion beyond 2035.
What is RAAC?
RAAC (Reinforced Autoclaved Aerated Concrete) is a lightweight, bubbly form of concrete that was often used in schools, colleges and Hospitals from the mid-1960s to the mid-1980s. It is usually found in roofs and occasionally in walls and floors. The majority of Leighton Hospital was built between 1970- 1972 as a 'best value' project and RAAC planks were used in circa 34,000 m2 of its construction.
The original lifespan of the RAAC planks was 30 years, Leighton Hospital is now 50 years old
The Standing Committee on Structural Safety report issued in May 2019 highlighted the significant risk of failure of these planks.
How is MCHFT responding?
Lots of work is being undertaken to manage the RAAC in the hospital:
Inspections: we have a dedicated team who are visiting every area with RAAC panels to inspect and record what they find. Each panel is marked on a map, given a special reference code and assigned an action.
Urgent repairs: if an urgent problem is identified then the appropriate remedial action will be taken. A prop may be used to secure the area.
New Hospital Programme: Following the Mott McDonald report presented to Treasury the Trust has also actively engaged with the governments New Hospital programme (NHP) to build 40 new hospitals by 2030 and has regular meetings with NHS England Programme lead.
Mitigation works: The next phase of mitigation will require decanting from ward space. The Trust is in the process of construction of a two storey Modular Decant Wards.
The proposed development will provide decant accommodation, which in turn will allow the Trust to undertake essential RAAC refurbishment/ stabilisation works to existing wards, ensuring patient safety.
Freedom of Information Requests
Theme 1.
Applications for funding to fix RAAC related issues.
Theme 2.
Details of the individual Trust buildings which contain RAAC
Theme 3.
Structural reports and risk management of RAAC at the Trust
Theme 4.
Structural maintence issues
Media statement
A spokesperson for Mid Cheshire Hospitals NHS Foundation Trust said: "The safety of our staff, patients and visitors is our absolute priority. We continue to undertake regular risk assessments and have been working closely with experienced structural engineers to survey the RAAC planks at Leighton Hospital.
"We continue to work on a rolling programme to survey all concrete planks on site, as well as add failsafe steelwork as necessary. Some of the areas that impacted by RAAC have already been demolished as part of our remedial works and we have received funding to build a new two-storey ward block. This new block will support us to be able to continue with the renovation and remedial works required as part of our response to the RAAC Planks."
Review dates
This page will be reviewed every six months, with the next review date being 10.05.2023